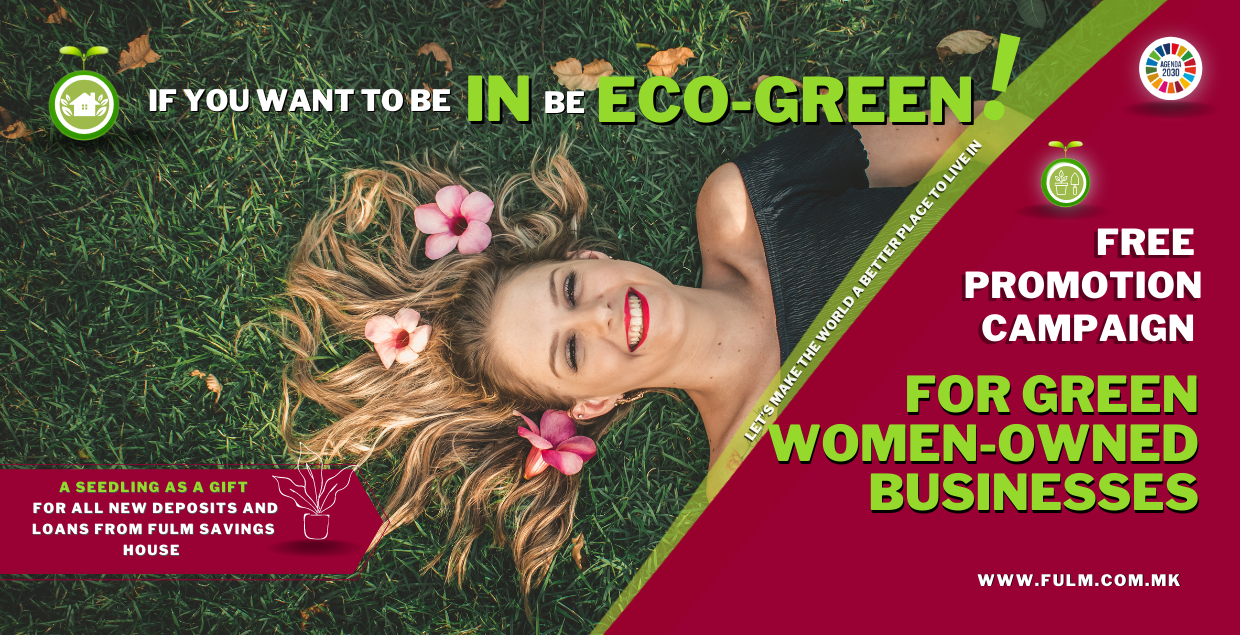 This spring we are launching the INITIATIVE – TOGETHER, let's make the world a more beautiful place to live in.
In the spirit of the Green Agenda 2030, through the campaign
"IF YOU WANT TO BE IN - BE ECO-GREEN!"
 FULM Savings House supports all innovative, green ideas and businesses
working towards sustainable development, preservation of the planet Earth, protection of the environment ...
That is why, FULM Savings House, in honor of the International Women's Day and encouraged by FULM Macedonia Women's Leaders Forum
offers free promotion of GREEN WOMEN-OWNED BUSINESSES ACROSS MACEDONIA
on FULM's website and social media,
in order to encourage green social entrepreneurship and the opportunity to present your business ideas,
products and services to the general public, as well as raising awareness about environmental protection and
economical and smart use of renewable resources through these businesses.
The campaign for free promotion of GREEN WOMEN-OWNED BUSINESSES ACROSS MACEDONIA
aims to incite and encourage women in Macedonia to take the initiative to improve
their own life and development, the progress of their family members and beyond - the whole community!
How to apply for a FREE promotion of your business?
Fill in the Interest form for GREEN FREE PROMOTION on THIS LINK
You will then be contacted for further guidance on promoting your business.
---
---
Follow us on social media
---
Connecting women, the inspiration that women leaders give in their communities, and thus incite and encourage women from our country and around the world, is the essence of the existence of the FULM Macedonia Women's Leaders Forum, founded in 2016, as part of the Global Women's Leadership Network GWLN and the World Council of Credit Unions WOCCU