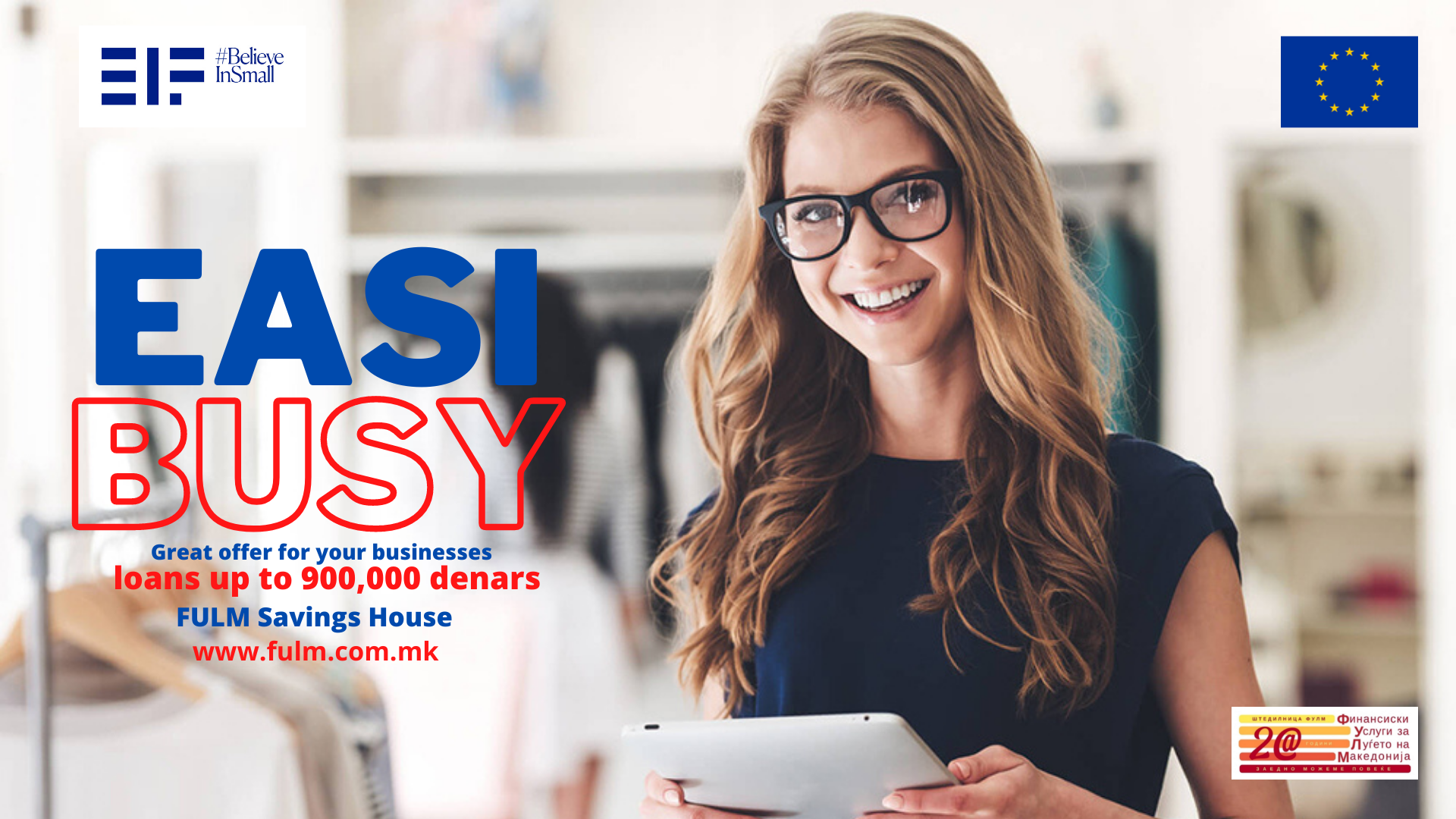 It is a great honor and pleasure to inform you that FULM Savings House has gained the trust of the European Union through the European Commission and the European Investment Fund for obtaining an EaSI guarantee, through which we received the opportunity to place up to 203 million denars intended for loan support to micro businesses and start-up ideas, within the European Union Program for Employment and Social Innovation (EaSI).
EaSI-Busy is the new product of FULM Savings House, intended to support and provide more favorable conditions for start-up ideas, micro-businesses in development and support micro-businesses for women, young people and all those who want to start a new business.
Who can apply for an EaSI-Busy loan?
 All persons,  who have their own micro-business and want to invest in it or persons who want to start a new business, regardless of the current employment status,  whether currently employed, unemployed or farmers and are citizens of the Republic of North Macedonia can apply for the EaSI-Busy loan. Applications can be submitted online, through our mobile application or in person in FULM Savings House's branches. After submission, they will be reviewed, and the loan applicant will receive a response within no more than 5 working days from the date of submission of the application.
 What are the conditions of the EaSi-Busy loan?
 Amount: from 50,000 to 900,000 MKD
Repayment: 24, 36, 48, 60, 72, 84 or 96 months
Grace Period: 3, 6, 12 or 18 months
More information on the conditions follow this link
Thanks to the EaSI guarantee, funded by the European Union, FULM Savings House has the opportunity to financially assist micro and nano-businesses and start-up ideas.
Financial support to start-up businesses with an operational history of up to 36 months of operation or a business that is in the development phase, business activity of individuals (nano-businesses).
The benefits of the guarantees funded by the European Union Program for Employment and Social Innovation (EaSI) are the following:
longer repayment periods;
grace period and
Reduced fees and costs for micro and nano-businesses
The program aims at recovery of the private sector and new employments in the Republic of Northern Macedonia.
* Through the European Program for Employment and Social Innovation (EaSI), the European Commission supports microfinancing and financing of social entrepreneurship with a total of 193 million euros for the period 2014-2020. The aim is to increase access to microfinance, i.e. loans up to EUR 25,000, especially for vulnerable groups and micro-enterprises.
* Source: EC Visibility Guidelines