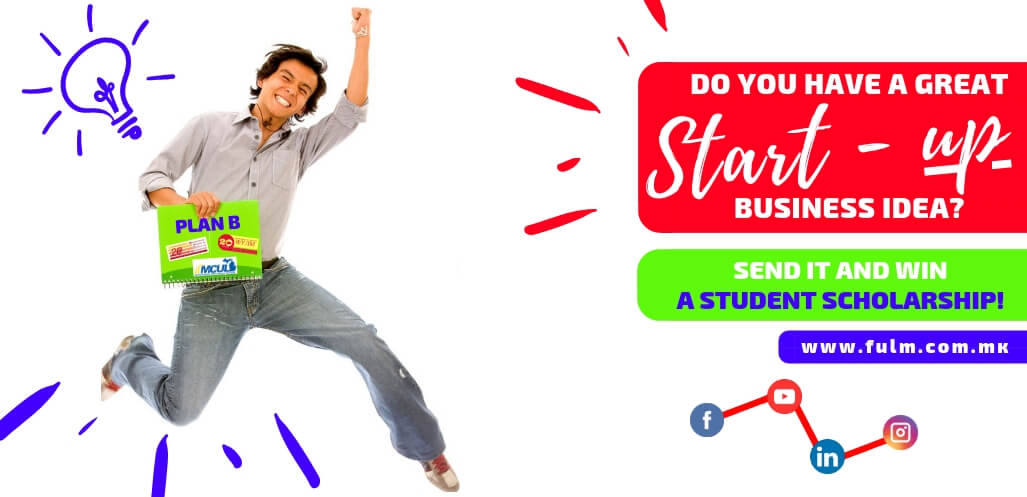 Are you a student? What are your plans for after graduation? What are your wishes? Plan B? 
DO YOU HAVE A GREAT START-UP BUSINESS IDEA? ?
SEND US YOUR START-UP BUSINESS IDEA AND WIN A STUDENT SCHOLARSHIP!
With the aim to support the education of young people in the Republic of Macedonia, for the fourth year in a row, FULM Macedonia, in cooperation with the Michigan Credit Union League (MCUL, USA), announce the start of the competition for granting a student scholarship for 2018. 
This year, the topic of the C O M P E T I T I O N for student scholarship is:
Development of a concept for realization of a start-up business idea entitled:
"My platinum vision"
In connection to the 2018 International Credit Union (ICU) Day® theme: "Find Your Platinum Lining"  
RULES TO PARTICIPATE IN THE COMPETITION:
Students from all universities in the Republic of Macedonia have the right to participate in the competition.
You can express your START-UP business idea through text and photograph or video, that is, you need to send:
Text written in two versions:
 – in Macedonian language (Macedonian support), and 
 – in English language,  
Texts should be sent in a Word document, with length (per language version) of half a page in A4 format with standard margins, in Times New Roman 12 point font size.   
Visual Solution (Photograph or short video) – to present your START-UP business idea (any technique is acceptable). If you decide to shoot a video, it should not be longer than 60 seconds.
Declaration of consent for publication of photographs/videos and texts containing personal data. Download the declaration here , print it, fill it out (manually signed) and send it to us with the other documents.
👉 Note! Applications which contain videos will have precedence!
Received papers (text, photograph or video and declaration of consent) should be submitted to the following e-mail address, no later than 15th October, 2018: fulmstedilnica@gmail.com. Only complete applications will be taken into consideration for the competition.
The papers will be publicly posted on FULM Savings House's profile on Facebook, followed by public voting. The TOP 5 START-UP business ideas with most votes will enter the competition for the winner and recipient of the FULM Student scholarship for 2018.
The recipient of the student scholarship will receive:
👉 Student scholarship (in the amount of annual expenses for one year of studies)
👉 Savings passbook with initial member deposit (if the applicant is not member of AC FULM)
👉 Certificate for winner of the competition and recipient of the student scholarship.
Follow us on social media where we will post information and news for the Competition for student scholarship.