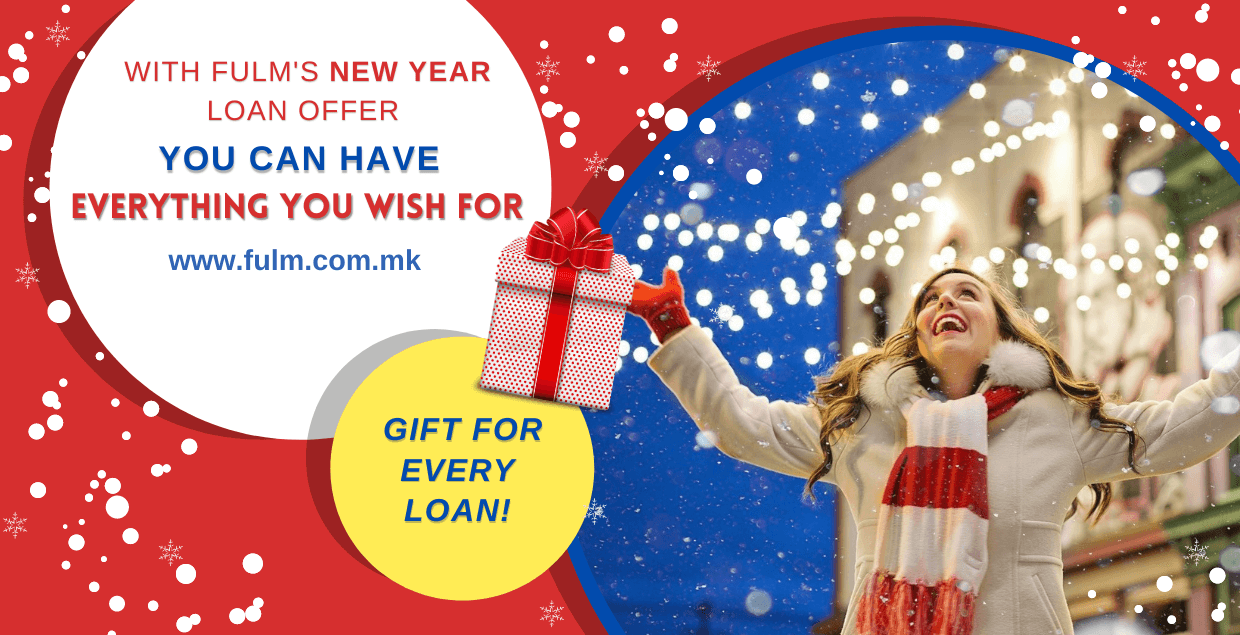 Life is amazing as it is, because every person in the world is capable of achieving everything they can dream of.
If you have a desire to do something, then you will find a way to achieve it, and we are here to financially support your needs, desires and dreams!
Take advantage of the New Year loan offer, intended for all of you: employed, unemployed, students, retirees and farmers!
For each loan taken out from 20.11.2021. to the end of the year you will receive a branded gift from FULM!
The loans are in the amount of 10,000 to 700,000 denars, with terms of 12-72 months.
The decision whether a loan will be approved and the amount of the loan will depend on several factors (the amount of loan you need, income and expenses status, loan capacity and history, etc.).
You can apply in the following ways:  
Online application – by clicking the following link:  https://www.fulm.com.mk/apliciraj-onlajn/  
Download and print out the application form on the following link: https://www.fulm.com.mk/krediti/prevzemi-baranje-za-krediti/  
Apply through the mobile application mFulm which you can download from Google play store. For more information: https://www.fulm.com.mk/elektronsko-bankarstvo/
Visit our branches in Skopje, Bitola, Kavadarci, Strumica and Tetovo.
Feel free to contact our loan officers from 8 am to 4 pm, every working day, so they can inform you on what you will need (guarantors and/or other documents), depending on the required amount:
Chat – chat with us online
Via message on our social media Facebook, Instagram, LinkedIn  
Here is a link for telephone numbers, locations and e-mail addresses: https://www.fulm.com.mk/kontakt/