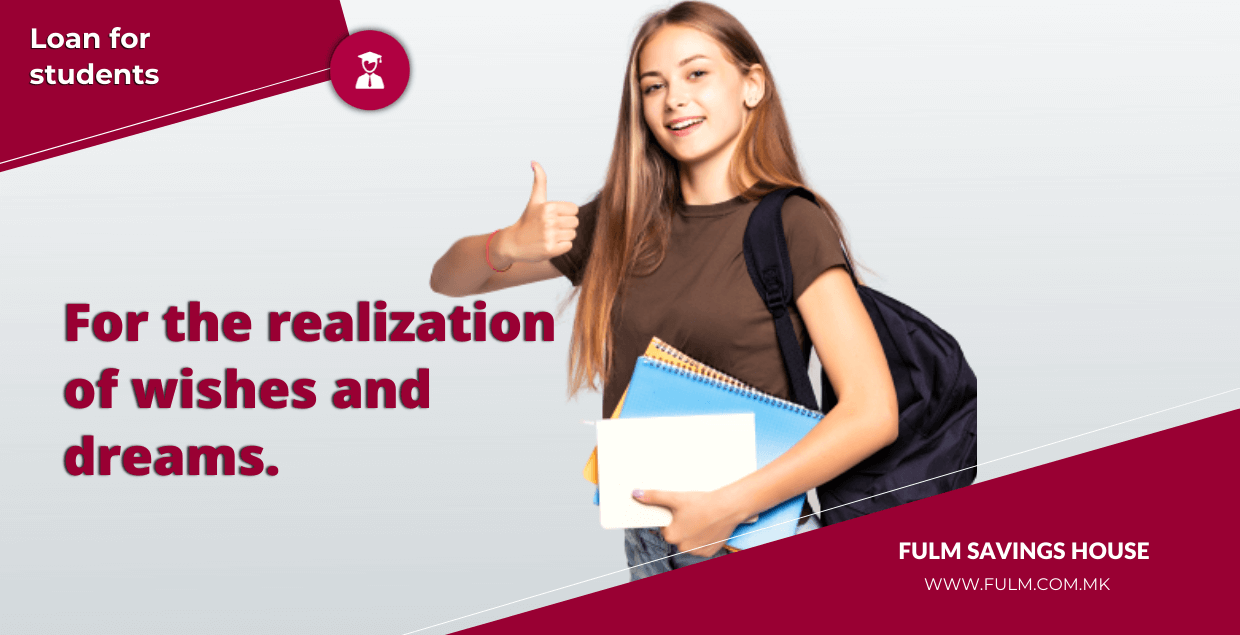 Type of loan

Target group

• Students from universities in the Republic of Macedonia and abroad, postgraduate students, students at doctoral studies and other persons continuing their education, specialization, professional specialization and other training.

Purpose

·         Enrollment expenses/participation fee

·         Books and other study  materials

·         Training, courses and professional specialization

·         Educational tools, internet, laptop and other means of communication,

·         Rent and expenses for studying outside the place of residence

·         Work&travel program, in order to gain practical experience or education in other countries in the world, etc.

·         Alumni excursion etc.

Loan amount

• Maximum amount of credit exposure per loan account is 400.000 denars*

Repayment period

• 12, 24, 36, 48, 60 and 72 months
• Maximum grace period of 12 months

Interest rates

Annual fixed interest rate**

Security

• Endorser/s, and/or verification of bill of exchange in the form of notary act and without endorser/s (depending on the granted loan amount and credit history at FULM Savings House)

Repayment

• Monthly by paying annuities (monthly installments) – for loans with repayment period from 12, 24, 36, 48, 60 and 72 months and 
• Possibility for a repayment mode by which the interest is paid on monthly basis, the principal matures after the expiration of the time period approved for the loan – for loans with repayment period from 12, 24 and 36 months

Fees

• According to FULM Savings House price list on the day the contract is concluded

Minimum loan criteria

• Individuals, citizens of the Republic of North Macedonia 
• The borrower gets more favorable conditions if he is a member of FULM

Minimum required documents when applying for loan

• Loan application form, copy of student's record booklet and valid ID card or passport of the borrower

 • Loan application form and verified certificate for net income and existing bans for net salary from the endorser/s and / or additional documentation depending on the type of employment and a copy of a personal identification document

Advantages

•Payment in cash or to a payment account
• No fee is charged for premature repayment of the loan 
• Favourable conditions during anew applying for loan
* Currency MKD – Denar loan.
* Annual, fixed interest rate. The savings house approves loans with a fixed interest rate. The fixed interest rate is unchanged for the specified loan period. Savings house FULM DOO Skopje, in accordance with the current regulations, regularly publishes the current annual rates of the total costs on the website, on the counters of the branches of the savings house and through public media (SVT) 
Necessary documentation:

Loan application form for the student and a copy of ID (passport) and student's transcript or a certificate from the faculty
Guarantor application form (a parent may act as a guarantor) and a copy of ID (passport)
Application forms can be obtained from: the Integrated Business Faculty, FULM Savings House website or desk offices.
Loan conditions:

The loan covers all expenses for studying and issuance.
The loan should be withdrawn no later than September 15th due to timely remittance and year enrollment.
The loan repayment starts from 1st to 15th October in 12 equal monthly instalments:

44,000 denar loan with a monthly instalment of 4,136 denars for full-time students, and
50,000 denar loan with a monthly instalment of 4,700 denars for part-time students.

The repayment needs to be completed no later than the beginning of September the following year, which is when the student submits a request for a loan for the following 12 months. The same applies for the following
year.
Discounts will be provided for the following year if the loan is repaid on regular basis.


Bonus information: A savings account with 600 denars as an initial deposit will be opened for each student.
Additional information: Call or visit the nearest branch or desk office.
* Fees are calculated according to the last valid Decision on the terms under which loans are approved and the pricelist of FULM Savings House. If they are subject to alteration or correction, the abovementioned amounts will change as well.
FULM Savings House in collaboration with the Faculty of Business Economics – Skopje, with a joint offer for easier studies!